Description
Origin:
China
Laboratory-comment:
We re-named that species from "unidentified Lilium ex China 3, pink & white" to Lilium cf bakerianum (China 3, pink & white)
Laboratory comment:
We received bulbs of that species (named Lilium species pink/white) in late 2019. These are cultivated for us by Erwin Wenger in Vienna.
It´s for sure a lilium species belonging to the bakerianum-complex. Flowers appear (according to diff. clones) either in pink or in pure, the flower doesn´t open that wide like yunnanese.
Steve Garvie mentioned when having this plant in flower: This plant is large flowered with the outside of the flower being white and the inside pink with numerous dark pink spots. The flower is more open-faced than bakerianum var. rubrum and the leaves/stem are quite markedly pilose.

in courtesy of Yijia Wang
Propagation:
bulbs/scales Lilium cf bakerianum (China 3, pink & white) # 1 YW (12.19) (LexChina3.0)
source: Yijia Wang, China
planted, reserve-stock
sowing Lilium cf bakerianum (China 3, pink & white) # 2 YW (11.21) (LexChina3.1)
source: Steven Garvie from bulbs obtained from Yijia Wang
sowing Lilium cf bakerianum (China 3, pink & white) # 3 YW (12.22) (Lcfbak1)
source: Steven Garvie
sowing: (05.23)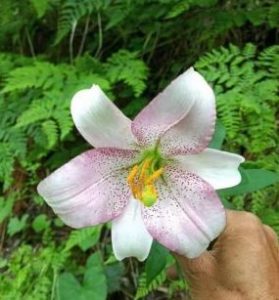 in courtesy of Steven Garvie
product-image in courtesy of Steven Garvie