Description
Lilium michauxii Poiret 1813
Origin:
Southern Virginia to the Florida Panhandle in the south to eastern Texas in the west. The first plants which were described have been found in Carolina, that´s why named the Carolina-lily.
Laboratory´s comment
We selected a few seedlings which appear with red-spotted leaves which seems an unusual mutation. These have been tc-ed successfully.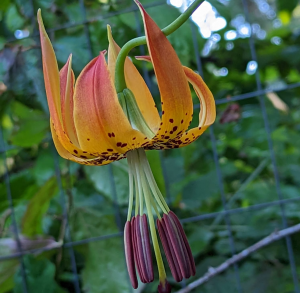 image in courtesy of Gordon Hogenson
Propagation:
sowing Lilium michauxii # 6 FCa ´04.18 (Lmich7)
Source: F. Carl, USA
25% of germination, seedlings
selection according to dotted leaves
product-image in situ