Description
Lilium ledebourii (Baker) Boissier 1882
Origin:
Northern Iran (Gilan province); undergrowth of deciduous forests, shrubs, 900 – 2.100 m

in courtesy of Alan Mitchell
Laboratory comment:
For us too, Lilium ledebourii is one of the most distinctive lilies. It was one of the first rare lilies to move in here in order to get artificially propagated. Many thanks to Janis Ruksans for the generous donation of the first bulbs (LledeJR) we have sought after for
a long time. Seeds from various very reliable sources followed and the first clone is already in the process of tissue-culture.
At most Lilium species the natural seed-dormancy is broken by the disinfection-procedure. Lilium ledebourii has proved to be more robust and resistant here. Either we have germination within a couple of weeks after the disinfection and inflasking the seeds or not sooner than 10 – 12 months later. Even of the same batch it is hard to predict when seeds will germinate.

in courtesy of Mohammad Sedegh Begheri
Propagation:
sowing Lilium ledebourii # 1 MS ´01.18 (Llede1)
germination –> seedlings –> tissue-culture (06.20)
sowing Lilium ledebourii # 2 AM ´11.18 (Llede2)
source: Alan Mitchell, Scotland
germination –> seedlings –> tissue-culture (12.20)
bulb Lilium ledebourii bulb # 3 ML ´10.10 (Llede3)
planted, reserve-stock
bulbs Lilium ledebourii bulbs # 12 AM ´09.18 (Llede12)
source: Alan Mitchell, Scotland
planted, reserve-stock
bulbs Lilium ledebourii bulbs 14 – 23 # 4 Kev ´03.19 (LledeKev)
source: Kevock Gardens, Scotland
planted, reserve-stock
bulb Lilium ledebourii bulbs/scales # 7 JR ´10.17 (LledeJR)
planted, reserve-stock, tissue-culture (09.18)
sowing Lilium ledebourii # 13 SG (10.22) (Llede13)
source: Steven Garvie, Scotland
sowing: (03.23)
germoination: (05.23)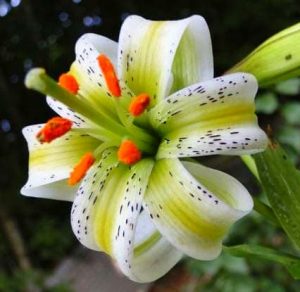 product-image in courtesy of Sajad Alipour