Description
Lilium mackliniae Sealy 1949
Origin:
Assam (Manipur)
Laboratory comment:
Lilium mackliniae is a species we still haven´t find a well-working medium-recipe for an advanced germination. Tissue-culture works fine but the start of the germination is tough and losses are often observed by browing-effects of the root-tips. Discovered right in time followed by an immediate replate into a new medium with less sugar inside the medium eventually prevents the seedling from dying off. Replating into a charcoal-accentuated medium partly helps either, whereas charcoal often blocks the germination itself.
Saramati strain = white form of Lilium mackliniae.
Steve Garvie from Scotland wrote: This was collected as seed on Mt. Saramati which straddles the border between Myanmar and Nagaland in India. When mackliniae was first introduced by Frank Kingdon Ward from the Siroi Hills of Manipur it was thought to have a very restricted distribution. However it has now been found in a number of slightly different forms on both sides of the Nagaland/Myanmar border ranging from white to a very dark pink. The original mackliniae became known as the Siroi lily, the white NAPE 049 introduction is sometimes called the Saramati Lily and the dark pink form from the Dzukou valley is known as the Dzukou Lily (= Lilium chitrangadae). None of these introductions are considered distinctive enough by taxonomists to merit sub-specific status.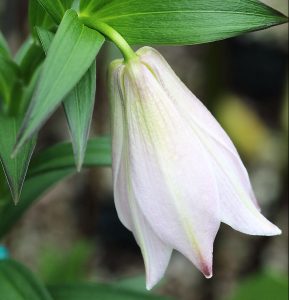 Lilium mackliniae white strain in courtesy of Steven Garvie
Propagation:
sowing Lilium mackliniae Saramati strain # 1 AM ´02.21 (LmackSara1)
source: Alan Mitchell, Scotland
sowing: (04.21)
germination (05.21)
sowing Lilium mackliniae Saramati strain # 2 SG (10.22) (LmackSara2)
source: Steven Garvie, Scotland
sowing: (05.23)
product-image in courtesy of Steven Garvie